Note! This information is updated from time to time.
Disassembler
Ida Pro 4.9 Free - IDA 4.9 Free
Contact me for FR processor module specially made for Pentax project
(it is in development still, second versin is available, thanks to zezo).
Our working database is in IDA 4.9 format.
We are still looking for synchronization tool. And I don't see normal synchronization solution.
Four necessary improvements are:
1) Handing of jump tables. This is very frequently used feature.
2) Script to handle offset tables (many of them are present),
so pressing two keys automatically changes all to offsets
(until it is proper address and stops as soon as it is not)
add xref and start analizing procedures.
3) Many parameters are passed by registers. If we could track them somehow and allow to quickly define this in function definition, so comments can be seen right after commands before call (ala pc.w32).
4) FR module have almost ready auto-comments. Is it desirable to make them work inside IDE (as gray auto-comments). As most people are quite new to this assembler.

IDA 4.9 Free screenshot during early work on GX20 firmware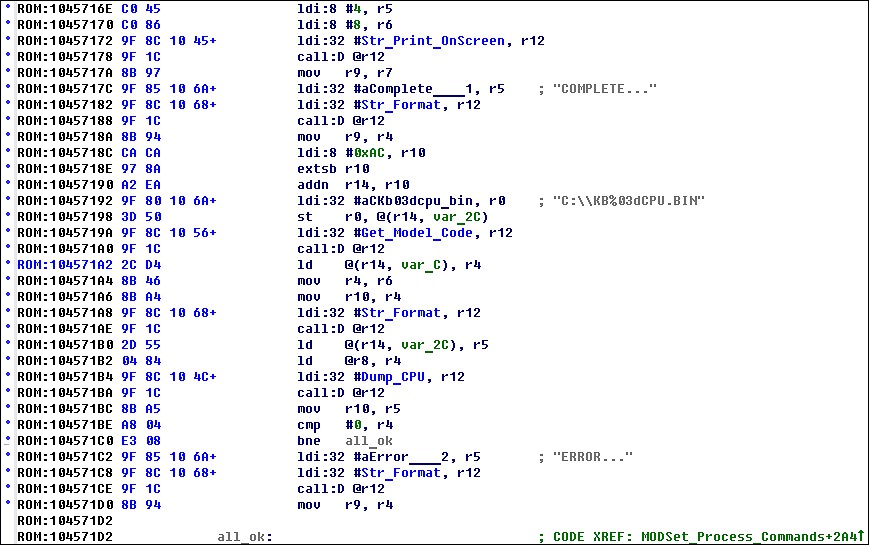 (c) 2009 Pentax Hacking Community